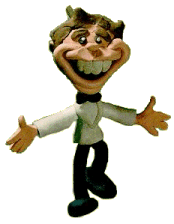 A NOTE ON THIS ORBIT
Because my one Republican reader complained that the last orbit "was not one of [my] better issues, and that he was "disappointed and hoping for better humor next time," I can only surmise that a more non-liberal-biased and less political orbit is in order.
This is of course, is impossible. We live in a political world more than ever today, and although I've survived many regimes, it's the opinion of this nationally honored satirist that we're presently experiencing a neo-fascist anti-science, anti-gay, anti-sex, anti-contraception, anti-health-care, anti-environment, pro-war, pro-rich, evangelical, censorial, pro-life/anti-life, anti-drug/pro-drug-company, anti-global-warming, pro-globalization, nation-building/nation-destroying, anti-evolutionary, crony-rich, fear-mongering, fat-cat, deeply corrupt administration -- which has even tainted the Democrats! (Ha.)
So here's a feeble attempt to make EVERYONE laugh, in spite of the fact that we're doomed… Feedback is welcome, and I hope you enjoy it, Bob!