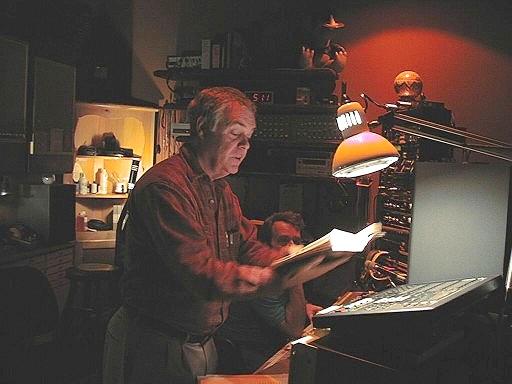 PHIL PROCTOR - 1999
Phil's musical and linguistic talents have taken him from Broadway where he sang in The Sound of Music and A Time for Singing, across the U.S. and Canada, to Europe, and even the former Soviet Union with the renowned Yale Russian Chorus.
He's won a Theatre World award, was cited as Best Actor by the LA Free Press, received three Grammy nominations with The Firesign Theatre and shared an L.A. Weekly award for the Antaeus Company's production of Arthur Miller's The Man Who Had All The Luck.
Besides being the voice on countless commercials, interactive games, and the top-rated reality show, Big Brother, he plays Howard on the Rugrats, (with a star on the Hollywood Walk of Fame and three Daytime Emmys); seahorse Bob in Finding Nemo, Charlie in Monsters, Inc., the drunken French Monkey in Eddie Murphy's Dr. Dolittle series, and a Chef in Spirited Away.
e was guest of honor at the 33rd Annual Minicon Science Fiction convention, emceed the InVision Awards in San Francisco and hosted in French and English, the MILIA Interactive Awards on the stage of the Pink Palace in Cannes before 10,000 participants.
His film, TV and stage appearances are too numerous to list but he most recently acted with his wife, Melinda Peterson, in The Independent, starring Jerry Stiller; and they perform regularly with the award-winning Antaeus Classical Company in North Hollywood where he also serves on the Board and just directed Norman Corwin's radio classic. "The Plot to Overthrow Christmas." for their annual benefit.
With The Firesign Theatre 4-man group he's appeared for over 35 years on records, CDs, DVDs and stage, screen and TV, including the short films, God's Clowns. Everything You Know is Wrong, and J-Men Forever. They've performed in the first Comic Relief, at the TED conference in Monterey, hosted the 10th annual Pollstar Awards and last toured the West coast with a play based on their first studio album in 17 years, nominated for their second GRAMMY, Give Me Immortality or Give Me Death on Rhino Records.
Their next CD, Boom Dot Bust, was released by WB as the world's first Spoken Arts DVD with visuals; and The Bride of Firesign garnered their third GRAMMY nomination. Many re-releases of all their classic albums and videos are now available @ Laugh.com
In 2001-02 they produced Fools in Space, a monthly 2-hour live show on XM Satellite Radio which won the NY International Radio Festival's Golden Award for Best Continuing Comedy Series; and were also seen in their one-hour PBS Special, Weirdly Cool, hosted by fans Robin Williams, George Carlin, John Goodman and Chevy Chase. They appeared as well on NPR's All Things Considered resulting in their last CD, All Things Firesign from Artemis Records.
On April 1st, the fools were honored guests at a special star-studded presentation of their audio plays at UCLA's Royce Hall and recently performed at the Museum of Natural History. They will do a brief west coast tour of Seattle. Portland, San Rafael and the Cerritos Performing Art Center in Jan/Feb, 2005.