SCIENCE IS YOUR FRIEND
New Mexico plans to keep drunks off roads by lecturing them at the last place they usually stop before getting behind the wheel -- the urinal. The state recently paid $21 each for about 500 talking Johnnycakes. When a man unzips, the motion-sensitive device speaks in a female voice that is flirtatious but strict.
"Hey, big guy. Having a few drinks? Think you had one too many? Then it's time to call a cab, or call a sober friend for a ride home."
The recorded message then ends prophetically (or prophylacticallly) by saying, "Remember, your future is in your hand."
Meanwhile, in Norway, there is a seed vault under construction on the Artic Island of Svalbard, designed to preserve the world's agriculture in case of a global climate crisis.
And here, a mysterious illness called Colony Collapse Disorder is killing off hives of honeybees in 22 states, which could impact on our agriculture! Worse than the plot of a B-movie…
But in Southampton, NY home, a man was found mummified on a chair in front of his TV - which was still on! Vincenzo Riccardi, 70, had been dead for over a year and was undetected because his house was up a long driveway. Mail delivery had long stopped, but the electricity was still going, and oddest of all, he was a diabetic who neighbors affirm had gone blind!
Finally - Ivory Coast chimps as long as 4,300 years ago may have been using a stone "hammer" about the size of a cantaloupe to crack open nuts! And scientists now believe that playing certain video games today can help 21st Century cyber-surgeons perform better! To which I say, "Oo-oo-oo-oo!"
---
"The truth is more important than the facts."~ Frank Lloyd Wright
---
MYTHS & MISSES
11 Physical Attributes Men Imagine Women Admire Most About Them:
1. Muscular Chest And Shoulders 21%
2. Muscular Arms 18%
3. Thingee 15%
4. Tallness 13%
5. Flat Stomach 9%
6. Slimness 7%
7. Hair (Texture, Not Length) 4%
8. Buttocks 4%
9. Eyes 4%
10. Long Legs 3%
11. Neck 2%
11 Attributes Women REALLY Admire About Men:
1. Buttocks (Usually Described As "Small And Sexy") 39%
2. Slimness 15%
3. Flat Stomach 13%
4. Eyes 11%
5. Long Legs 6%
6. Tallness 5%
7. Hair 5%
8. Neck 3%
9. Willie 2%
10. Muscular Chest And Shoulders 1%
11. Muscular Arms 0%
(Source: "The Sunday Times", London)
To which Planeteer, Maryedith Burrell adds: Any woman worth her ever-expanding weight knows that the "Physical Attribute" a girl admires most in a man is the muscular forearm, hand and fingers he uses to sign his signature on an American Express Diamond credit card receipt.
---
"Exactly what does 'the little chef' need to do to 'stir my sauce'?" ~ Heading on recent junk mail from China
---
MADE IN CHINA
And some fan mail…
"I am a student fan from China named Xu Zhen lin, would like to thank you for reading my letter! I think among your career, you must have a lot of things. All I want to say is that whatever happened, please be strong and walk on.
"You fell blue just because you walk with your back to the sun, and you will embrace all the brilliant when you turn around. You can see a whole new world in a grain of sand find a heaven in a flower, and feel warm in your plam. I hope these words can encourage you to conquer every peck you have to face in the future.
"Life is not easy for any of us, we must work hard, and above all we must beleve in ourselves. As a famous star, you are a respectable person, you have not only made a contribution to your motherland but also made a contribution to the whole world.
"With the development of China's economy, The Olympic Games will be held in China in 2008. We have the Great Wall, lovely panda and favourite food. Welcome to come to China!"
---
"When I was a kid, I used to pray every night for a new bicycle. Then I realized that the Lord, in his wisdom, didn't work that way. So I stole one, and asked him to forgive me." ~ Emo Philips
---
FIRST TIME
It was my first time ever/And I'll never forget
I'd do it again/Without a single regret.
The sky was dark/The moon was high
We were all alone/Just she and I
Her hair was soft/Her eyes were blue
I knew just what/She wanted to do
Her skin so soft/Her legs so fine
I ran my fingers/Down her spine
I didn't know how/But I tried my best
I started by placing/My hands on her breast
I remember my fear/My fast-beating heart
But slowly she spread/Her legs apart
And when I did it/I felt no shame
All at once/The white stuff came
At last it's finished/It's all over now
My first time ever --At milking a cow…
---
"In those days spirits were brave, the stakes were high, men were real men, women were real women and small furry creatures from Alpha Centauri were real small furry creatures from Alpha Centauri."~ Douglas Adams
---
SAY WHA ?
A man was sitting on the edge of the bed, observing his wife turning back and forth, looking at herself in the mirror. Since her birthday was not far off he asked what she'd like to have for her birthday. "I'd like to be six again," she replied, still looking in the mirror.
On the morning of her birthday, he arose early, made her a nice big bowl of Lucky Charms, and then took her to Six Flags theme park. What a day! He put her on every ride in the park; the Death Slide, the Wall of Fear, the Screaming Monster Roller Coaster, everything there was.
Five hours later they staggered out of the theme park. Her head was reeling and her stomach felt upside down. He then took her to a McDonald's where he ordered her a Happy Meal with extra fries and a chocolate shake. Then it was off to a movie, popcorn, a soda pop, and her favorite candy, M&M's.
What a fabulous adventure! Finally she wobbled home with her husband and collapsed into bed exhausted. He leaned over his wife with a big smile and lovingly asked, "Well dear, what was it like being six again??"
Her eyes slowly opened and her expression suddenly changed. "I meant my dress size, you fool!"
The moral of the story: Even when a man is listening, he is going to get it wrong.
---
The word " hippopotomonstrosesquipedaliophobia" means "the fear of long words."~ Phil's Phunny Phacts
---
ALOHA, OY!
MOST FRIENDS… Will knock on your door and will say "Hello". They'll never ask for food, but will eat at your dinner table and leave early. They call your parents "Mr. and Mrs." have never seen you cry, know a few things about you, will abandon you if that's what the crowd is doing, and will be your friend for a while.
HAWAIIAN FRIENDS… Walk right in and say, "I'm home!" Give you a big hug and a kiss. They always bring food and will spend hours at dinner, talking, laughing, and just being together. They call your parents "mom and dad." They'll cry with you, could write a book full of your direct quotes and will kick the butts of those who dumped you. They are friends for life.
---
"I never know how much of what I say is true."~ Bette Midler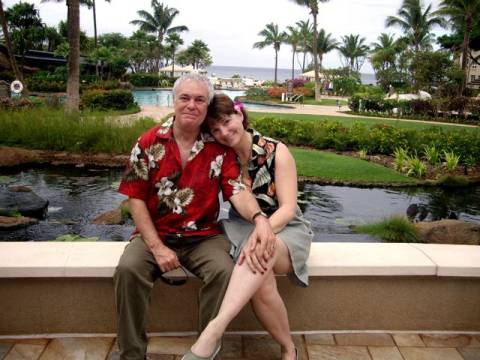 (Hey! We bought a 2-week Starwood timeshare while in Maui…)
---
"Some cause happiness wherever they go; others, whenever they go." ~ Oscar Wilde
---
HE'S REALLY REMOTE NOW
Robert Adler, a US inventor, earned more than 180 US patents over his 58-year career -- but received an Emmy in 1997 for the 1956 invention of the couch potato's dream -- the TV remote control -- has died at the age of 93.
His widow Ingrid said the remote was not his favorite invention, however, and that he was "more of a reader…who would dream in the night and wake up and say: 'I just solved a problem,'" she told the Associated Press. "He was always thinking science."
The Zenith Corporation marketed the first remote control device in 1950, but it was attached to a cord. Later, wireless devices communicated with the TV by photocells, but were affected by sunlight, but Adler came up with a device using ultrasonic signals -- and inspiring the Firesign Theatre to write Don't Crush That Dwarf, Hand Me the Pliers! Click - Click!
We also lost Alfred Desio, 74, who invented a way to electrify tap-dancing. He called it "Zapped Taps," and the great Gregory Hines featured in the film "Tap." Melinda knew him.
---
"Eternal nothingness is fine if you happen to be dressed for it." ~ Woody Allen
---
WHO'S TO BLAME…
Michael Dare, Bill Coombs, Matt Kimbrough, Scott Langill, Henry Jaglom Stevie Vallence, Nick Oliva, Patty Paul, Andy Thomas (not his real name), Richard Laible, and Eddie Deezen.
---
"Why do you have to be a nonconformist like everybody else?"~ James Thurber
---
IS THIS SURF-ICCIENT?
DON'T BLAINE ME: http://www.youtube.com/watch?v=puzxrzOOiwc&mode=related&search=
IT'S VIRTUAL: http://www.youtube.com/watch?v=nakMpu5ubXA
KITTEN KEYS: http://www.youtube.com/watch?v=TZ860P4iTaM&eurl
ORSON: http://www.youtube.com/watch?v=cSsZ6lH7kPo&mode=related&search=
OSAMA/OBAMA: http://www.thesmokinggun.com/archive/years/2007/0213071obama9.html
TAKE ONE NOW: http://www.havidol.com/
BUSHED: http://www.lookatentertainment.com/v/v-2220.htm
THE FINGER: http://www.collegehumor.com/video:1741589
GIVE HIM A HAND: http://www.youtube.com/watch?v=ifKKlhYF53w
CHIPS: http://www.pistolwimp.com/media/57827/
PINS: http://www.skylighters.org/puweek/
STATUESQUE: http://haha.nu/funny/strange-statues-around-the-world/1
THE WHOLE EARTH:http://www.dailykos.com/storyonly/2007/2/16/114553/289
---
"I was up all night wondering where the sun went. Then it dawned on me." ~ John Boyarsky