Planet Proctor 2002 Volume 06
"The entertainment industry is a cruel and shallow money trench, a long plastic hallway where thieves and pimps run free, and good men die like dogs. There's also a negative side."
- Hunter S. Thompson
---
ALWAYS A BRIDESMAID . . .
The Firesign Theatre is, of course, deeply honored to have been nominated three times for a Grammy, but thanks to that indomitable curmudgeon, George Carlin, we were denied once again the thrill of victory and had to settle for a great show and another wonderful party at the Biltmore. I hope we won't have to wait for a Lifetime Achievement Award delivered to the old comedians' home.
Thanks to all our friends and supporters, and I dedicate this award to the Bride of Firesign, the Daughter of Firesign and the Mother of Firesign; my beautiful, courageous, inspiring and talented wife, Melinda; my lovely, gifted and funny daughter Kristin; and my late Amish-Irish mother, Audre, who gave me the most precious gift of all, after life - a sense of humor.
---
"I thought I was talking to my momma's ashes, but she wasn't there."
- Barbara Davis, victim of Georgia's Tri-State Crematorium scam
---
GOSHEN = SH'GONE
My darling, witty mother, born Audre Jane Yoder of Amish/Irish/German lineage, passed over peacefully at 1:23 am, in her home town of Goshen, Indiana, on Tuesday morning, February 19th. My aunt Bonnie (her one remaining sibling) and her daughter Betsy, were able to see her earlier that day and brought her some comfort; and she and I had a degree of closure over the phone when she was first admitted.
In that conversation she confided to me that she thought she wouldn't make it through this one and; although I got her spirits up, I did tell her I was prepared for her transition and would see her on the other side (which I sincerely believe). She became increasingly weak soon thereafter, and when the pneumonia progressed to her other lung, the call from her doctor confirmed the ultimate outcome in my mind.
As she was on high-pressure oxygen from that point on, I was unable to talk directly with her for the last days of her life, but sent my messages of love through her nurses.
When her best friend, Anne Garman, died less than a month ago, rather distressfully, Mom confided, I knew that one of her last reasons for hanging on was gone; and knowing as well that her quality of life had deteriorated since her major surgery last year, no matter how cozy she was at the Greencroft assisted living home, I did fear that she might be ready to "check out" when the opportunity presented itself.
I'd talked to her every week, as often as I could, and when she complained that she might be coming down with a cold, my sensors went up. Unfortunately, in her still weakened state, a virus rapidly took hold, progressing to a bronchitis; and when antibiotics failed to halt its progress to pneumonia, off she went again to the all-too-familiar hospital. At least she was cared for by staff whom she knew and who "cared for" her.
When I heard that she had suffered another heart attack upon admittance, I feared even more for her wellbeing. Nonetheless, her death was rather too swift, preventing me from traveling out to see her once the Firesign Theatre live XM radio show and the Grammy Awards was out of the way. Talk about bad timing!
Bonnie confirmed to me that Mom did not expect me to come to her side and in fact had always discouraged such a reaction, reiterating it to me many times over the years. She was a independent cuss!
Mom and I had no unfinished business between us; we were as close as two people can be and had great love for one another right up to the end. Of course, I am sad, and feel emotion well up regularly over her passing; but I am also grateful that she had such a long and eventful life and wanted to leave it on her own terms, as creatively and unconventionally as she lived it. I honor that.
Melinda and I, and my daughter Kristin and her boyfriend, will be gathering at Goshen on Saturday, March 9th to inter her ashes in the Yoder family plot, settle her affairs and distribute her remaining earthly goods. We return Wednesday.
---
"Life gives more than death can take away." - Anonymous from Richard Green
---
SILVER METAL HITS
The Beatles: "I get by with a little help from Depends"
Steely Dan: "Rikki Don't Lose That Clapper"
Herman's Hermits: "Mrs. Brown You've Got a Lovely Walker"
The Rolling Stones: "You Can't Always Pee When You Want"
Credence Clearwater Revival: "Bad Prune Rising"
Marvin Gaye: "I Heard It Through The Grape Nuts"
The Who: "Talkin' 'Bout My Medication . . . "
The Troggs: "Bald Thing"
(From Tiny Dr. Tim, author unknown - or just forgotten?)
---
"It's like the sun and the moon. They both go around the earth, but one is a little bit brighter and a little bit hotter than the other,"
- Dog mauling defense attorney, J. Tony Serra
---
TICK, TOCK
At 8.02pm on February 20 much was made of an "historic moment" in time as military clocks announced 2002, 2002, 2002 (or) 20:02, 20/02, 2002.
If you missed this exciting moment, you can always go freeze yourself and set the thaw for 9:12 PM on December 21st, in the year 2112 when for another sixty seconds it will turn 2112, 2112, 2112 or 21:12, 21/12, 2112.
Of course, this mind-boggling event also happened at 11:11 AM on November 11th in the year 1111 (1111, 1111, 1111; 11:11, 11/11, 1111) and at 1:10 AM on October 1st in the year 110 (0110, 0110, 0110; 01:10, 01/10, 0110) but I don't think anyone noticed.
---
"Time is an illusion; lunch time doubly so."
Douglas Adams, Hitchhikers Guide
---
THE SURREAL NEWS IN REVIEW
First, the creator of comic surrealism, called by Eddie Izzard "The Godfather of alternative comedy for the world" (and for the Firesign Theatre, who's Peter Bergman once collaborated with the great man) died at 83 on Grammy Day.
Spike Milligan, who created England's ever-popular Goon Show, originally called "Crazy People Featuring the Goons" (he found the word goon in a Popeye comic) and first broadcast on 28 May 1951, established the careers of Harry Secombe and Peter Sellers.
He once declared "You'd have to be a total idiot to be happy today."
His real life story is as absurd as the scripts he wrote, and to see his wacky auto-obit, go here: http://www.smh.com.au/news/0202/28/html/obituaries1.html
---
Meanwhile, Britain has just committed to pioneering the cloning of human embryos for disease research, the Brooklyn Bridge and several other spans may asoon be on sale to help finance the economic aftereffects of 9-11, and mentally ill killer, Alexander Williams IV believes actress Sigourney Weaver is God. What's crazy about that?
The Winter Olympics may be over, but a Russian presidential spokesman noted that they "are being treated differently" today. "At least they were afraid of us then. And they were afraid to mess with us."
Ex-Soviet Hockey player Vlad Krutov added before the recent defeat by the American team, "If we lose, it will mean that the entire country is defeated."
And finally, the Finns were prohibited by the George Gershwin from mounting an all-white "Porgy and Bess".
"But Mr. Gershwin," they wrote, "We have no black actors in Finland."
---
"They not only make the laws of the land - they make history!"
- Promo for CBS' "Supreme Court" from The Lost Tapes' Reel George
---
A REAL BLACKOUT
A group of white people, fed up with African Americans, joined together and fantasized of an America free of all blacks. At last - no more crime, drugs, violence and welfare!
But this "NEW AMERICA" is only a barren land! There are very few crops since the nation had been built on a slave-supported system. There are no skyscrapers because Alexander Mils, a black man, invented the Elevator. There are few if any cars because Richard Spikes, a black man, invented the Automatic Gear Shift and Joseph Gammell, also black, invented the Super Charge System for Internal Combustion Engines and Garrett A. Morgan invented the Traffic Signals.
Furthermore, one could not use a Rapid Transit System because its precursor was the electric trolley, which was invented by another black man named Elbert R. Robinson. And the were filthyr since an African American, Charles Brooks, invented the Street Sweeper.
There were few, if any, newspapers, magazines and books as John Love nvented the Pencil Sharpener, William Purvis invented the Fountain Pen, Lee Burridge invented the Typewriting Machine and W. A. Lovette invented the Advanced Printing Press. Even if Americans could write, they're efforts would not have been transported by mail becauseit was William Barry who invented the Postmarking and Canceling Machine, William Purvis, the Hand Stamp and Phillip Downing, the Letter Drop.
Lawns were brown and wilted because Joseph Smith invented the Sprinkler and John Burr, the Lawn Mower. When they entered their homes, they found them to be poorly ventilated and poorly heated. Frederick Jones invented the Air Conditioner and Alice Parker the Heating Furnace. Their homes were also dim because Lewis Latimer invented the Electric Lamp, Michael Harvey, the Lantern and Granville T. Woods - the Automatic Cut-off Switch. And their homes were grubby because Thomas W. Steward invented the Mopand Lloyd P. Ray, the Dust Pan.
Their children met them at the door barefooted, shabby and unkempt. But what could one expect? Jan E. Matzelinger invented the Shoe Lasting Machine, Walter Sammons invented the Comb, Sarah Boone, the Ironing Board and George T. Samon gave us the Clothes Dryer. And their food had spoiled because another black man, John Standard, invented the refrigerator.
Black history includes more than just slavery, Frederick Douglass, Martin Luther King, Jr., Malcolm X, Marcus Garvey and W.E.B. Dubois
---
"In a free society, diversity is not disorder. Debate is not strife. And dissent is not revolution."
- President G.W. Bush in China
---
STILL WAITING . . .
The Firesign Theatre's classic audio comedy, "Waiting for the Electrician or Someone Like Him" with five actors playing fifty characters in fifteen minutes, has been extended at The Players Space, 4934 Lankershim Blvd, from March 1st to March 23rd, Fridays @ 8PM and Saturdays @ 10PM.
Collaborating with FST members, director David Avcollie will then open "How Can You Be In Two Places At Once" with "Electrician" to start a 12-week cycle in which three more Firesign plays will open, culminating in a gala June presentation at the NoHo Arts Festival.
Visit: http://hometown.aol.com/theplayersspace/
ThePlayersSpace.html for production stills and discount tickets or call (818) 508-6612!
---
"More than any other time in history, mankind faces a crossroads. One path leads to despair and utter hopelessness. The other, to total extinction. Let us pray we have the wisdom to choose correctly."
- Woody Allen
---
TH-TH-THAT'S ALL FOLKS . . .
According to the L.A. Times, animation genius Chuck Jones, who gave life to that wascally wabbit, the portly pig, the lisping duck and the tormented coyote, died at home at 89. A three-time Oscar winner, whose career spanned more than 60 years and more than 300 animated films, died of congestive heart failure.
"Animation isn't the illusion of life," he said, "it is life."
---
AND IN CONCLUSION
My friend, Philadelphia-based producer John Rice, sent me a moving tribute to my mother, which affords me an opportunity to thank all of you who have responded to my loss. He wrote, "With your permission, I want to step outside tonight and look to the sky, pick a star and stare at it. It doesn't really matter which star, because I think if I look up, it will find me. I believe in stars. I believe in the glimmer and shimmer of light that cuts through the darkness. I believe they are symbols of life.
"If I find a star, and I think I will even on this cloudy night, may I say 'hello' to you mother? May I thank her for at least one life I know she has inspired in this world? May I thank her for the humor that I believe she inspired in you? May I tell her that I think she will live on?
"I recently wrote to a cousin of mine that I feel the presence of my grandmother at many, many times. I feel a hand on my face, or a guiding presence on my shoulder. I almost always feel a warmth in my heart. I told my cousin that I can easily discount these feelings as the wind, or the sun, or other natural forces. But I do believe that my grandmother is standing beside me - pointing, cajoling, guiding, scolding and loving me in every moment I live. I only wish I realized it more.
"Phil, don't ignore the feel of a brush on your cheek, a hand on your shoulder, or a tug at your heart. May she be always at your side."
Thank you, John. And I thank all of you.
---
Phil's "Signs of the Times"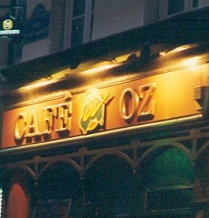 I don't think we're in Kansas anymore . . .
(actually Paris, The Latin Quarter)
captioned by Tiny Dr. Tim
---
PLANET PROCTOR
© 2002 by Phil Proctor
Published 3/3/02