Planet Proctor 2002 Volume 01
"When it comes to 2001, the movie was better than the year."
-Richard Brestoff
---
THE YEAR IN RE-WHEW!
Well - It's over. And here's some highlights to offset the many lowlights.
First, Jerry Falwell was cited as the Dumbest Person of the Year by Mad Magazine, and they ought to know. "We thought Falwell had touched his personal pinnacle of dumbness a few years ago when he accused the Teletubbies of promoting homosexuality," observed co-editor John Ficarra. "We underestimated him."
Carlos the Jackal, as opposed to Osama "the Big Cat" (in Arabic, I've heard), has fallen in love with his agent and hopes to get hitched - if he's ever un-cuffed.
The Japanese Sanyo Company has invented a detergentless washing machine which competitors deride because soap and washing machines "are destined to live together, like both wheels of a vehicle." The dirty little war has erupted, reveals NY Times writer James Brooke, since these days in Japan, fewer dirty little babies are being birthed.
A course was introduced at Siena Heights University by teacher William Irwin featuring "The D'oh! of Homer" and "The Gospel According to the Simpsons: The Spiritual Life of the Most Animated Family."
Fundamentalist Christian Ken Ham, who heads "Answers in Genesis, is developing a "Creation Museum" in Florence, Kentucky to demonstrate that God created the world in six days. Be prepared to see a life-size model with a sign reading:"Thescelosaurus. Means wonderful lizard. Height: 4 feet. Length: 11 feet. Created on Day six."
According to LA Times' Stephanie Simon, "45% accept the biblical account that God created man within the last 10,00 years." But who's counting?
The singing of "Danny Boy" was banned at funeral masses and memorial services by Providence, Rhode Island's Roman Catholic Diocese as being too secular. Theological spokesperson Rev. Bernard A. Healy explained to the Associated Press that it's a fundamental(-istic) misunderstanding. "[The mass] is about their connection to Jesus Christ and the Church, not their connection with the Emerald Isle." - But retired Providence Policeman Charlie McKenna fumed, "I want 'Danny Boy' sung at my funeral mass; and if it isn't, I'm going to get up and walk out."
Finally, "Fab!" the West Hollywood gay and lesbian newspaper, exposed the fact that two employees at the Providence Place Mall (also in R.I.), refused to sell a gay couple a pair of apparently homosexual Hallmark "Kiss Kiss Mistletoe Bears."
The boys discovered that the magnetized brown-furred teddies are supposed to only lock lips with their white-haired, skirted partners, but apparently a horrible mistake by their creator allowed one auburn fuzzy to "suck face" with another. The mall owners have apologized, but not the clerks.
---
"The terrorists don't want us to have sex. If we don't have sex, the terrorists will have won!!"
- Planeteer Jon Morgan
---
THE YEAR IN REVIEW
(Well, it's barely started, hasn't it, so this should be easy.) My wife, Melinda and I just returned from a whirlwind tour of several East coast and Texas PBS stations where I participated in fund-raising breaks during airings of the Firesign Theatre's first ever 1-hour special, "Weirdly Cool" - to learn that Firesign has been honored with a third Grammy Nomination for its latest Rhino release, "The Bride of Firesign." The ceremony will take place on February 27th at the L.A. Staples center and we're only up against our dear friend 3-time WINNER George Carlin, (fuck him!), Ray Romano, Margaret Cho and the Queens of Comedy - so place your bets now!
"Weirdly Cool" in VHS or DVD format, as well as scads of new, re-issued and rare Firesign product, is now wildly available at amazon.com, laugh.com, lodestone-media.com and firesigntheatre.com, and we all know that it's never too early to start your Christmas shopping.
Besides "Howard" on Rugrats, my voice can be heard as "Charlie", the whistle-blowing manager of the contaminated, de-haired "George" in Pixar's "Monsters, Inc."; this season I'll be seen as a 50's psychiatrist on an episode of "Saving Grace" on ABC Family, and both Melinda and I play the parents of Siamese twins in the "Brothers Divided" segment of the funny and touching film, "The Independent", starring Jerry Stiller, which is described by Harry Knowles in NYC's "Ain't It Cool" news as "very much in the same genre as 'Something About Mary' and 'Amazon Women on the Moon'." (Yet another of my rare cinema appearances . . . )
Finally, it needs to be noted that Melinda is at present recovering from her second leg surgery as a result of her unfortunate auto mishap back in June of nasty last year; but she'll be stepping out again (appropriately) in March. And now that that's over with, on with the show!!!
---
"Predictions are difficult to make, especially about the future."
- Yogi Berra
---
A MAN OF HIS WORD
Ira Meyer responded to Mahatma Ghandi's quote that one must embody the change one wants in the world, with this anecdote.
"I heard a story years ago about a woman who had a super-hyper son, the result of the enormous amounts of sugar he consumed. Having tried everything to get him to stop, she finally brought him to Gandhi . . . [and] he asked her to come back in three days.
"Upon their return, the Mahatma expressed to the boy the 'evils' of sugar consumption . . . [and] somewhat confused, she asked him why he couldn't have done this on their first visit. His response was - 'You see madam, three days ago I had not yet stopped eating sugar.' "
Then Michael Sheehan pointed out (like a sharp stick) that Gandhi also said "An eye for an eye makes the whole world blind."
---
"When the watchdog for the public turns out to be the dog that ate the papers, there is a big problem."
- Former SEC 's Lynn Turner on Enron's accountant C. E. Andersen
---
CHECK OUT THE BIN AT BLOCKBUSTERS!
Pentagon officials have admitted that the attempts to trash bin Laden have failed to date, and some pundits here in Hollow-wood are suggesting that bin Laden has lost himself in the halls of the William Morris Agency and will never be seen again.
It's rumored that the agency was hoping he'd host "Survivor III: How Are Things in Tora Bora", but typically, the Morris office did not return my calls. And now, U.S. officials have uncovered a DVD version of the infamous "My Dinner with Achmed" tape, said to have been seized from a Taliban safe house in the Afghanistan city of Jujubeebad, which offers even more conclusive proof of bin Laden's role in the 9-11 terrorist attacks. Unlike the previously screened grainy and often inaudible tape, the cleaned-up version offers a high-res letter-box picture with THX Dolby Digital 5.1 Surround Sound. (Look out, Osama - the whole world is listening!)
"This DVD clearly demonstrates bin Laden's callous disregard for human life," said Secretary of State Colin Powell. "But I have to admit they did a really nice job of cleaning up the sound. It really sparkles."
The disc also contains many goodies not found on the original tape, including more than 30 minutes of never-before-seen footage (clearly "the director's cut") such as the entire meal with the Saudi sheik (with appetizers), an extended "dream sequence" of the visions described by the participants in the digitally animated style of "Waking Life", and a bonus featurette, "The Making of the bin Laden Video" which takes viewers behind the scenes with the Big Cat providing a voice-over concerning challenges the crew faced "shooting" in Afghanistan. At one point, for instance, tribal warlords brandishing AK-47s hold up the production until their people can negotiate a percentage of back-end sales.
The final segment features outtakes and bloopers such as bin Laden repeatedly mispronouncing the name "Mohammed," and collapsing in helpless laughter. Another shows him, apparently unaware that the camera is rolling, spilling food on his lap and then wiping it up with his turban.
The technical sophistication of the DVD has raised concern in the Pentagon, leading to speculation that bin Laden could have obtained the technology from disaffected, unemployed Ex-Soviet filmmakers or that he may even have had help from America, as tiny lettering on the rim of the DVD seems to read: "C in a circle, 2001, AOL Time Warner."
But Thane Tierney, an AOL Time Warner spokesperson, vehemently denied this, labeling it "The work of infidels." Reaction on the Arab Back Lot has been, as always, one of skepticism.
So go rent it, I say, and judge for Youssef!
---
"It is a fearful thing to contemplate that when you are driving along the road, a heavy horse may at any moment drop from the sky on top of you."
- UK Justice Vaisey
---
STAND AND DELIVER!
So you wanna be a star? Eric "Big Guy" Boardman sent me news of a REALLY open audition.
"Puppetry of the Penis", the internationally acclaimed phenomenon, has announced plans to further expand the production following overwhelming requests to tour worldwide.
Creators Simon Morley and David Friend will be holding auditions for a new band of penis puppeteers in New York on Thu. Jan. 17 at 11 am at the John Houseman Theatre, 450 W. 42nd St. The judges include Michael Musto and "Time Out New York" sex columnist Jamie Bufalino (aka "the Little Buffalo).
The demand for this outrageous show is such that Morley and Friend are now in search of more like-minded gentleman who possess a unique combination of natural talent and a complete lack of shame. The vision is to expand and franchise PUPPETRY until, like the former British one, the sun never sets on the PENIS empire, no matter how hard it tries.
Currently the original puppeteers are playing to sold-out houses in New York, while other companies perform in Toronto, Sydney and a tour in the UK. This venture will enable five teams of puppeteers to perform simultaneously throughout the globe.
Penis puppeteers should come to the auditions with their own equipment, a flexible working attitude, and a readiness to demonstrate their own genital installations. As an equal opportunity employer, both circumcised and uncircumcised genital origami hopefuls will be seen.
If chosen, a Master Class will include instructions on such classic installations as the Eiffel Tower, the Hamburger, the Loch Ness Monster, the Windsurfer and the Wristwatch, and participants are guaranteed a follow-up audition the next day.
Genital Origami Artists! Don't miss your chance to travel the globe and get paid for 'dicking around'! Call the Penis Audition Hotline on 212 592 4623 or send an email to puppetryauditions@hotmail.com
---
"Looking for a voice that's warm, charming and friendly. Think Dan Rather."
- Audition copy
---
NO CRAP!
As we enter the uncertainties of the Twenty-First Century, one thing remains constant. Art Rules! Newsday reports that the Wisconsin State Bar ordered that a shirt be sculpted over the topless torso of a proposed statue of "Lady Justice".
And at Napa Valley's new Robert Mondavi Copia Art Center, named for the Roman Goddess of Abundance and celebrating wine, food and the arts, Catalonian artist Antoni Miralda has been attacked by members of an activist Catholic watchdog group for an exhibit of 35 figurines which depicts among the likes of Santa Claus, Donald Duck and Popeye, the pope and some nuns defecating.
They did not protest other "caganers" (traditional Spanish figures often included in Nativity scenes to ensure a good harvest) but a spokesperson asked in an article by LA Times' writer John. M. Glionna, "Why couldn't he have chosen the Lone Ranger and Tonto instead? Or better yet, just Tonto and a few of his Indian buddies?" Good idea. And how!
---
"There's too many religions. Somebody's going to hell."
- Redd Foxx
---
GOING, GOING, BUT NEVER GONE
As Studs Terkel observes in his latest work, "Will the Circle Be Unbroken: Reflections on Death, Rebirth and Hunger for a Faith", "How can we envision our life, the one we now experience, unless we recognize that it is finite?" So we enter the New Year ruminating on the lives of some late, great folks, starting with our dear Avery Schreiber.
Although most famous for his taxicab act ("Huh? Huh? Huh?), created with Jack Burns, who had previously teamed with George Carlin, LA Times TV writer Cecil Smith wrote of "The Burns and Schreiber Comedy Hour":
"I mean how often do you find a comedy team . . . doing a sketch in which an integral part is the recitation of an alliterative lyric poem by the Jesuit mystic poet Gerard Manley Hopkins? On television?"
Celebrations of his life will be held in LA at the Improv on Melrose, Sunday, January 27 or Tuesday the 29th at 1 o'clock and in New York on at the John Houseman Theater on Feb. 4 at 2 pm.
We also lost the honest and acerbic wit of Julia Phillips, producer of "The Sting" and "Taxi Driver" (and of the Firesign Theatre's un-realized adaptation of "The Odyssey"). Her tell-all 1991 book "You'll Never Eat in This Town Again" insured that she didn't; Nigel Hawthorne, of "Yes, Minister" and "The Madness of King George"; Foster (hic!) Brooks, Eileen (Picnic) Heckart; Lance (15 minutes of fame) Loud, Mary (The Queen of Clean) Whitehouse; and last but not yeast - Freddie Heineken, founder of one of Holland's leading breweries.
An anecdote I r-e-ceived alluded to an annual gathering of Holland's brewmasters on "the state of the beer world." Each owner, of course, ordered his own specialty, a Grolsch, an Amstel, a Hertog, etc., but Freddie asked for a double Glenlivet.
"Aren't you going to drink beer?" somebody asked.
"Why should I?" said Freddie, "Nobody else is."
---
"This is the Gate of Heaven. Enter ye all by this door. (This door is kept locked because of the draft. Please use the side entrance)"
- Church sign in last year's "365 Stupidest Things Ever Said" Page-a-Day
---
Phil's "Signs of the Times"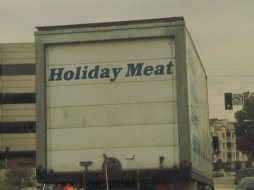 Talk about a seasonal job . . .
captioned by
Tiny Dr. Tim
---
PLANET PROCTOR
© 2002 by Phil Proctor
Published 1/13/02