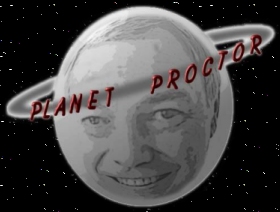 Phil Proctor presents his spaced out view on everything under the sun, moon and stars.
NOTE: Planet Proctor flags some anti-virus software as an alert .
This was the fault of our host inserting their tracking code and has been removed, but we remain flagged.
Fear NOT! The Planet is Clean!
There is no melicious code of any kind. All flash and Java script has been removed. Travel safetly!
[ENTER]
© 1996/2018 by Phil Proctor
Site Design: Benway of Hollywood